As you know, the most important tip in Marketing products is Content. It plays a key role and regarded as Content is King in the whole of your Marketing system. So before you publish a qualified article, surely you have a plan to build it from making ideas, choosing images, inserting links to sharing it on social media…so that your blog will get the most visitors, traffics and so many readers know and follow. One of the tools you need to take care is SEO which can help your efforts to reach your potential customers. SEO-friendly content is not hard or time-consuming to build. As long as you know how to incorporate SEO on-page along with your content. Today Junothemes will spend a little time sharing you 8 Tips to Write SEO Friendly Content 2017. Please take time and experience with our article. Surely you will discover a lot of interesting things there!
#1. Write content naturally
Writing new content does not make sense if the content is not outstanding. Even if you use an idea from another source. This still depends on whether you create your own unique character, which may increase the value of that article or not. Before you put hands to write you can do research on the Internet about the topic, hot trend and read reference some good articles. As a result you will open creative ideas in your mind. But remember that don't copy the whole content from a source, which surely will make google not appreciate your content quality and not help you have high rank on SERPs.
#2. Optimize the title tag
After you complete the most important part is content. The next step is Optimize the title tag for your article. Because as you know title is one of the first things users will see when they search on Google. So the title is so important and you can think out of box then choose the best title for your article so that it will make a great impression at the first sight and can keep readers stay longer on your writing. Like so you reach a part of the success.
Using the main keyword on the title tag is a quite good idea. However, don't take too long to do this. You should choose strong words and avoid redundancy to create the best and most engaging title. An excellent headline is usually 55-60 characters long because this title will be displayed on SERP of Google. Because this title will be displayed on Google SERP. But take note that your URL need to be related to the title. Don't too complex!
#3. Pay attention to structure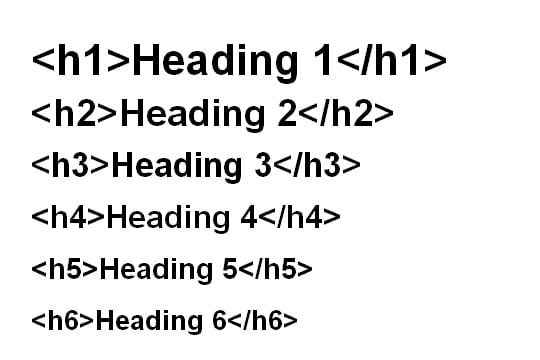 Not only content but structure is important, it helps search engine decide whether the website is displayed or not. Thus, the clear structure of title and paragraph will be preferred to both users and search engine. Headlines also help search engine get the quick overview of your content. That is the reason why it is important to put your main keyword on the title at least once to get the effect. Whether you use the H1-H6 structure, or simply add H2 and H3 headings at relevant points on the whole article. A structure that matches the entire content will be high appreciated. The heading tags have a lower priority from H1 to H6. H1 is the main title, H2 explains, develops ideas for H1, H3 explains, develops ideas for H2, … similar H4, H5, H6.
#4. Use the keywords wisely
Currently, keywords are rarely used as the first signal to express the content of your article. However, keywords are still useful in making an overview of the main subject of the article. Doing research Keyword helps us determine the most attractive topics for potential customers. Keywords can be part of your content, as long as they are added in context. Do not reduce the quality of your content to add more keywords. Because cramming too many keywords can lead to the opposite of what you wish. We insert naturally key words in the article so that readers will feel not annoyed when meet too many keyword in a writing. You only pay attention a bit you can create a good animation for viewers.
#5. Easy to understand
As we know, no one likes reading a long article with so many complex contents. This will reduce their interest and quickly log out your article. So your content is easy to read, understand depending on the following factors: language simplicity, grammatical or grammatical errors, and sentence structure.
Easy-to-understand online testing tool let you know which age can understand your content and these tests depend on:
The length of the sentence
Number of syllables per word
Frequency of passive sentences
#6. Use internal and external links
Internal link can help you improve your credibility on a particular field. In your article you can insert some your internal links on some key words. This can add valuable information to the original article, which will help the search engine understand your main topics.
External links or outbound links show that you are well aware of the topics you are writing, and you are also willing to use additional sources to supplement your content. Be sure to link to the reputable sources, because these links are more reliable.
Note that don't use too many links (both internal and external links) because they can produce unintended results. Make sure each link has a purpose in your content.
#7. Optimize images
The next tip is optimize images in your article which offers the opportunity to display on search results. As the visual content becomes more and more popular, SEO can not ignore this element. Optimizing images does not take you too much time. All you have to do is remember some simple tips:
Always make sure the file name is related
Be careful with file size as it will affect the speed of the page
Do not forget to add alt text or a title for the image
Set your status as a user when naming your image
Focus on quality images and avoid using generic images
#8. Focus on Potential Customers
Each article you write must be directed to the user. This principle also applies to SEO. You can not create follow-up articles or do keyword research without knowing your potential customers.
What do potential customers want from you?
How do you increase the user experience?
Does your website ruin your content?
All of these questions can be answered by paying close attention to your website, content, and potential customers. Google values pages that are more direct to the user experience. So never underestimate the user experience.
Some quick tips
If you want to write SEO friendly content, keep in mind the following:
Focus on user search intent
Authenticity
Build the best title for the content
Pay attention to the structure of the content
Use keywords wisely
Edit, read again and make sure the content is easy to understand
Use both internal and external links to increase the value of your content
Optimize your entire image for new opportunities for search rankings
Hoping via 8 Tips to Write SEO Friendly Content we share you above you can widen so many ideas to improve your writing quality and produce so many articles which achieve high ranks on Google and pull a lot of traffics and visitors to your website. If you have any questions, don't hesitate to leave a comment below, we will check and reply you soon. Please take time and experience with us!
Have a nice day!